Jeep Recon: The Electric Challenger to Land Rover Defender
by AutoExpert | 16 September, 2023
In a bid to revitalize its presence in the European market, Jeep is gearing up to launch the Jeep Recon, a formidable electric off-roader. Set to debut in 2025, this robust vehicle is positioned as an unofficial sibling to Jeep's iconic Wrangler, bringing electrifying power to the rugged SUV segment.
Built upon the same platform as the 2025-bound Jeep Wagoneer S, the Recon, along with the compact Jeep Avenger already on the market, will significantly bolster Jeep's UK offerings, expanding its lineup to seven models by the mid-2020s.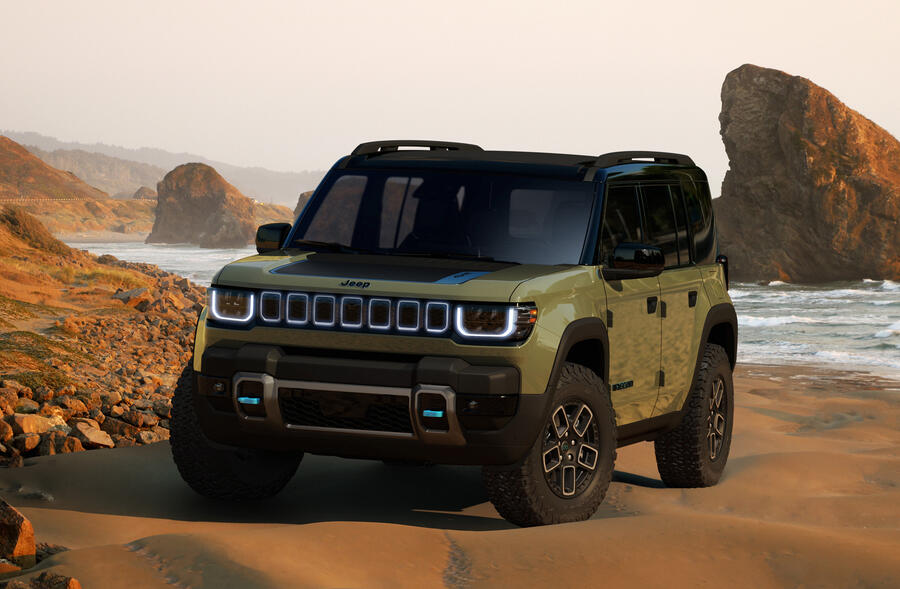 Jeep, now under the Stellantis umbrella, is making substantial strides towards electrification. The Recon and Wagoneer S, both due in 2025, are some of the brand's first models to adopt Stellantis's new STLA Large architecture. While precise technical details are yet to be unveiled, what's confirmed is a blistering 0-60mph acceleration time of just 3.5 seconds for both models.
The Recon, born in the US and initially released there, is poised to represent a raw, back-to-basics interpretation of Jeep's legendary off-road heritage. Buyers will have the freedom to opt for removable doors and an open-top design, reminiscent of the Wrangler's open-air experience.
Jeep's European head, Antonella Bruno, affirms that the Recon will coexist with the Wrangler but with distinct sizes and roles within the lineup. Bruno describes the Recon as a "white-space car" for Europe, boasting a unique, boxy, and highly capable character, and it will be positioned in a segment slightly lower than the Wrangler.
While Jeep offers a plug-in hybrid version of the Wrangler outside of the UK, engineering challenges have hindered the introduction of the Wrangler 4xe in right-hand drive for this generation. Therefore, the Recon will be the only electrified option available in the UK by 2025.
Jeep is setting its sights on becoming a global leader in 4x4 electrification, leveraging its rich heritage in off-roading to conquer the EV market. Interestingly, Jeep isn't positioning itself as a direct rival to Land Rover in the UK and Europe. Instead, it sees potential competition in brands like Volkswagen and Mini as it aims to increase sales.
Despite recent challenges in the European and UK markets, Jeep remains optimistic about its brand recognition and the potential for growth. With new products like the Avenger and Grand Cherokee joining the lineup, Jeep is poised to make a substantial impact in these regions.