Car Comparison: Honda Civic Vs Toyota Corolla - A Comprehensive Review
by AutoExpert | 10 November, 2023
Sedans have long been favored for their fuel efficiency, smooth handling, and comfortable rides. Leading this segment are the Honda Civic and Toyota Corolla, two models that have stood the test of time with a strong fanbase and reputable performance.
Trim Levels
The Honda Civic and Toyota Corolla offer different trim levels to cater to various preferences. While Honda presents the Sport variant for the Civic, Toyota offers the Corolla in XLI and GLI trims, each with distinctive features.
Performance Specifications
Both models excel in ride experience, thanks to their advanced suspension systems, ergonomic interiors, and safety features. The Corolla's 1.6-litre engine offers 121 horsepower, whereas the Civic's turbocharged 1.5-litre engine boasts up to 180 horsepower. Their CVT systems ensure efficient performance and fuel economy.
Acceleration Comparison
The Civic outperforms the Corolla in acceleration, reaching 100 km/hr significantly faster. This highlights the Civic's more potent engine capabilities compared to the Corolla.
Exterior Features
Aesthetic appeal is paramount in both models, with sleek designs, dynamic grilles, and sporty accents. The Corolla features a honeycomb bumper grille and halogen headlights, while the Civic sports 18-inch alloy wheels and LED lighting.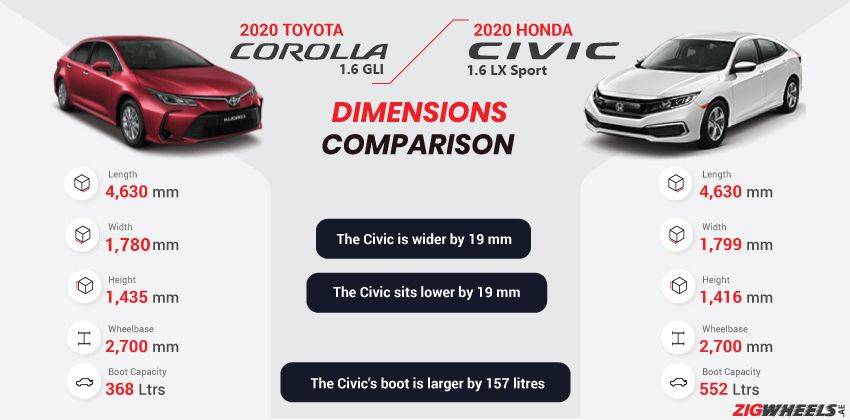 Color Variations
Both models offer a range of color options, allowing personalization to suit individual tastes.
Interior Features
The Civic and Corolla both offer a luxurious and spacious interior, with the Civic providing more cargo space. Features like electric power steering and lumbar support are standard in both models.
Safety Features
Both cars are equipped with a host of safety features, including ABS, traction control, and advanced driver-assistance systems, ensuring a safe and reliable ride.
Infotainment Features
The infotainment systems in both cars cater to modern connectivity and entertainment needs, with features like Bluetooth connectivity and keyless entry.
Price Comparison
The Civic and Corolla are competitively priced, with the Civic positioned at a higher price point. Their popularity in the used car market also reflects a range of accessible price options for buyers.
The starting Manufacturer's Suggested Retail Price (MSRP) for the 2024 Honda Civic is $23,950, whereas the 2024 Toyota Corolla begins at a slightly lower starting MSRP of $21,900.
Final Verdict
Choosing between the Honda Civic and Toyota Corolla depends on individual preferences and requirements. The Corolla is known for its spacious interiors and fuel efficiency, while the Civic offers a more powerful engine and the latest safety features.
The Honda Civic and Toyota Corolla continue to dominate the compact sedan market, offering a blend of efficiency, versatility, and reliability. This comprehensive comparison highlights the strengths of each model, aiding potential buyers in making an informed decision.