Let's Chat Airbags: More Than Just A Pillow in a Crunch
by AutoExpert | 5 September, 2023
Hey, everyone! So, you're cruising down the highway, belting out your favorite songs, living the dream. But guess what? Safety matters just as much as those sweet tunes. Today, we're peeling back the layers on airbags, the unsung heroes riding shotgun on every trip.
So, Why Should You Even Care About Airbags?
Ever blink and miss something? Airbags deploy and deflate in less time than it takes to blink. For real! And guess what? They cut the risk of dying in a frontal crash by up to a third. That's pretty much like having a superhero on your dashboard, isn't it?
Next-Level Stuff: Meet the Smart Airbags of 2023
Airbags aren't just "one size fits all" anymore. Now they've got brains! In the newest models, airbags tailor their punch depending on how big you are and how hard you hit something. Yeah, they're pretty much the Iron Man suits of car safety.
Hold Up! Airbags Can Go Rogue, Too
You've heard of Takata, right? Total mess. Airbags deploying like fireworks, causing injuries, even deaths. Moral of the story: Stay on top of recalls. It's as simple as typing your Vehicle Identification Number (VIN) on the NHTSA website.
The Airbag Crime Scene: No Joke!
Here's a wild twist. Some people actually steal airbags. Can you believe it? Last year, in the Big Apple alone, over 50 airbags were snatched. Crazy, right?
Got Kiddos? Listen Up!
If you're carting around a munchkin in the front seat, you might think about turning off that airbag. But hey, don't take our word for it. Check the manual and ask your pediatrician.
When Airbags Aren't the Heroes We Need
Look, airbags usually do their job like pros, but sometimes they mess up big time. Like the Takata airbags—deploying like grenades and causing real harm. We've also got stories of airbags popping out just because someone slammed their car door. No joke! And for our little buddies and petite adults, standard airbags can pack too much punch, making the back seat the safer option.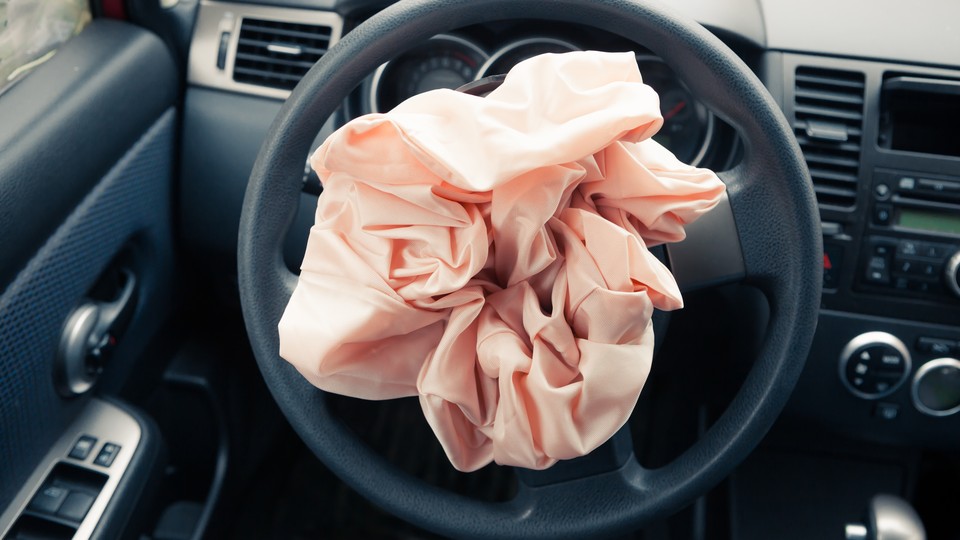 Wrapping It Up
Okay, so airbags are a big deal, and knowing the ins and outs can literally be a lifesaver. While they've got a lot going for them, they're not infallible. Keep an eye out for recalls and understand their limitations. After all, the more you know, the safer you'll be. So keep jamming to your tunes, but let's also keep our journeys safe, one airbag at a time!